Hours of Operation:
By appointment only.
Lindsay office days are  Alternate Mondays & Wednesdays – starting July 1st, 2019 Tuesdays, Thursdays & Fridays.
Appointments are generally 4pm onward. Some early morning appointments available.
Peterborough office days are Alternate Mondays and Wednesdays – starting July 1st, 2019. Appointments from 4pm onward.
Early evening appointments available at both locations.
The fee for individual, couple or family counselling is $100 per session. Sessions are 55 minutes in length. Payment is due each session either by cash or cheque or e-transfer. Credit cards are  accepted. Receipts will be provided.
Many extended health care plans or insurance policies cover all or part of the costs. Please check with your provider. Additionally, the Canada Revenue Agency now approves Social Workers as authorized "medical practitioners" and as such receipts provided can be claimed as medical expenses on income tax returns.
---
Peterborough Office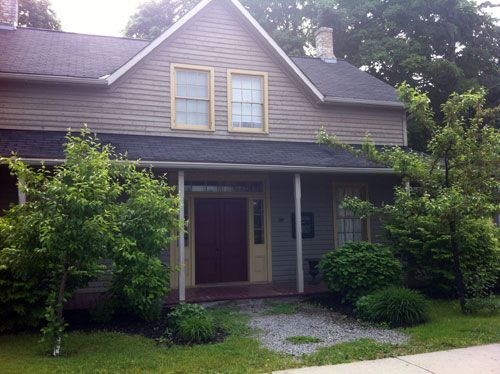 My office is located in Harvey Cottage at 544 George St. North, Peterborough, ON K9H 3S2. George Street is the main downtown street of Peterborough. The office is situated immediately north of City Hall and the George St United Church Annex (McDonnell St) and just south of London St.
By Car: George Street runs in a north/south direction. The section of George St where the office is located is South Bound Only. Those people driving upwards from Lansdowne St will need to travel north on North Bound Only, Water Street and cross over to George St via London Street. Free parking is available on the street.
By Bus: The Peterborough Transit Route #1 travels up Water Street and down George St.
Harvey Cottage is a converted Victorian home on the east side of the street. Please enter the building via the front double doors. Inside the front entrance, you will find a cozy waiting room to your left. There is no receptionist.
In wintertime slippers and other indoor shoes can be found at the door for client use. Please help us to protect the heritage flooring from salt and slush.
The building is generally wheelchair accessible. Please let us know ahead of time so that we may ensure that you have easy access to the building.
---
---
Lindsay Office
The Lindsay office is located in the Gateway Plaza at 55 Mary St. W, Suite 109, Lindsay, ON K9V 5Z6, on the first floor just inside the main lobby.
Mary Street runs parallel to the main street of Lindsay (Kent St), two blocks south. It is bound by Angeline Street on the west and Lindsay Street on the east. This is a plaza is known most commonly as the plaza that has the Ontario Early Years Children's Centre and now most recently, Queen Street United Church.
By Car: Drivers from northeast of Lindsay (Bobcaygeon, Kinmount, Dunsford, Downeyville, Cowan's Bay) entering Lindsay by Queen Street or Colborne Street, should turn south onto Lindsay Street. Those from the south and east of Lindsay should turn off Highway 7 onto Lindsay Street. Dairy Queen marks the intersection of Lindsay Street and Mary Street.
Those driving in from Cameron, Fenelon Falls, Coboconk or further should turn left off of Highway 35 onto Kent Street West. Then turn right onto Angeline Street. Ross Memorial Hospital marks the Angeline & Kent Street intersection. Proceed south on Angeline Street until the second set of traffic lights. Caressant Care and Frost Nursing Homes mark the intersection. Turn left onto Mary St. Drive past the stop sign. The plaza will be on your right hand side but from this direction, it will be hard to notice until you are passing it. Those travelling from west from Manilla, Sunderland and Cannington should turn off Highway 7 at Angeline Street South and proceed up to the above-mentioned traffic lights.
The Gateway Plaza has a free large parking lot which is well lit in the evening hours.
By Bus: Lindsay Transit's Red route bus stops beside the plaza.
The plaza and offices are also completely accessible for those with mobility issues or who use a wheelchair. We ask that clients enter the suite and have a seat in the waiting room.
---
---